scioPhospho combines the advantages of a robust and cost-efficient protein expression profiling using scioDiscover with information on phosphorylation status. This combination provides a comprehensive overview on signalling events and pathway activity regulation.
Features

1,300 highly relevant proteins are profiled in a single assay
Phosphorylation status combined with protein expression levels
Tyrosine, serine and threonine phosphorylation
Analysis of individual phosphorylation types available
Comprehenisive data analysis and presentation
Individualised study report

Advantages

High-content screening of proteins and phosphorylation is time and ressource efficient
Direct comparability through protein expression and phosphorylation level analysis in a single assay
Complete analysis from minimal sample volume
Coverage of important

Signalling pathways
Transcription factors
Receptor molecules
Kinases

Individual data analysis options available

Protein interaction network analysis
Biological and pathway classification
Lists with differential proteins and phosphorylation levels

Variety of sample formats possible

without

the potential bias of a sample fractionation or a sample depletion
Results presented in a publication-ready format

Applications

T cell activation
Tissue treatment response
Cell cycle regulation
Oxidative stress response
Cell adhesion and motility
Phosphorylation profiling of various signalling pathways:

FAK phosphorylation
PI3K-AKT pathway
p53 pathway regulation
Alzheimer pathway regulation
Case study Target proteins Contact us
Case study
Eight treated cell line samples were compared with 8 control samples. Several proteins were identified as differentially expressed (x-axis) and/or phosphorylated (y-axis). While the left plot provides an overview on expression / phosphorylation differences for all tested proteins in the two sample groups, individual levels are depicted in the plots on the right. The sample status is indicated as C = control or T = treated.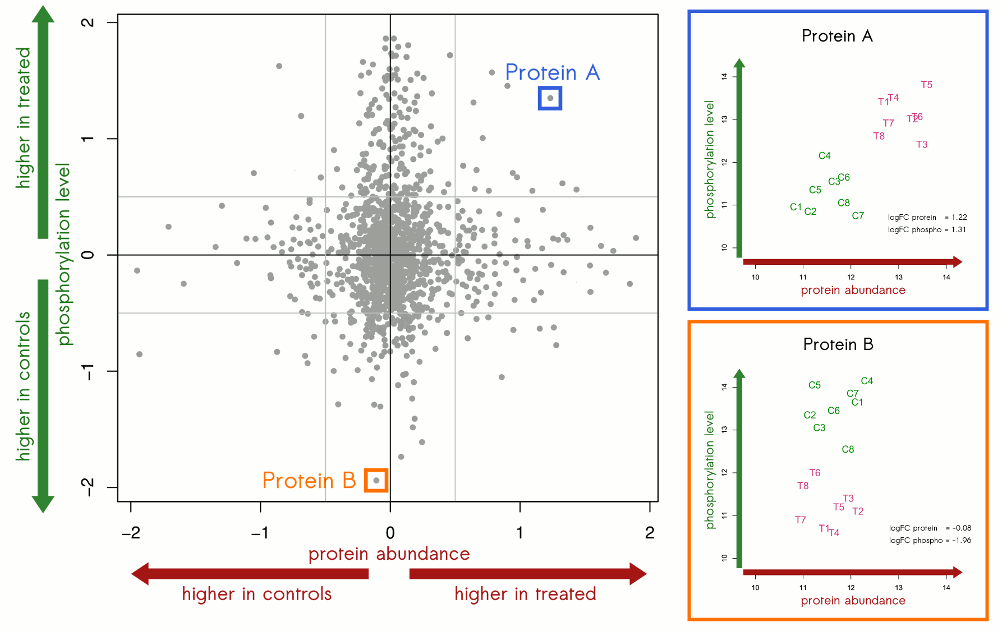 Reference customers
Prof. Dr. Mathias Heikenwälder, German Cancer Research Center, Heidelberg, Germany
Dr. Caroline Pabst. University Hospital Halle, Germany
More information
Download our scioPhospho or scioDiscover service brochure.
Information on protein and pathway content / coverage.
Get in touch to answer any remaining questions.
Ask for a quotation to get your study started.
Which sample types can be analysed?
With the scioPhospho service a variety of samples can be analysed:
fresh frozen tissue samples
cellular content
cerebrospinal fluid
plasma / serum
additional sample types on request
Sample-to-result service
Within our analysis service, we will not only carry out the microarray experiments but also support you with a suggestion for an appropriate microarray study design as well as with the sample selection process in order to address your scientific question in the optimal way. Within 3-4 weeks after receipt of your samples you will receive a customised study report including a statistical analysis.
Our analysis service includes:
definition of an appropriate study design

sample preparation

protein extraction

protein concentration measurements

protein quality control

sample labelling

sample purification

incubation of the samples on antibody microarrays

microarray scanning

raw data acquisition

data normalisation

data analysis including cluster analysis

statistical testing for differentially abundant proteins

statistical testing for differentially phosphorylated proteins

comprehensive study report