Characterise a certain cell type ?
Cell composition in a certain tissue sample ?
In-depth profiling of CD-marker expression ?
Increase your throughput at high sensitivity levels ?
You aim at high reproducibility ?
Our scioCD profiling service covers 206 different proteins by monoclonal antibodies:
All these proteins can be analysed in parallel within a single experiment from minute sample amounts. Thereby, scioCD antibody array analysis service is ideally suited to investigate cell composition of tissues or the differentiation status of cultured cells in a highly parallel, fast and robust fashion. In addition, protein distribution in blood samples (plasma / serum) can be analysed efficiently, providing insights in the blood cell composition.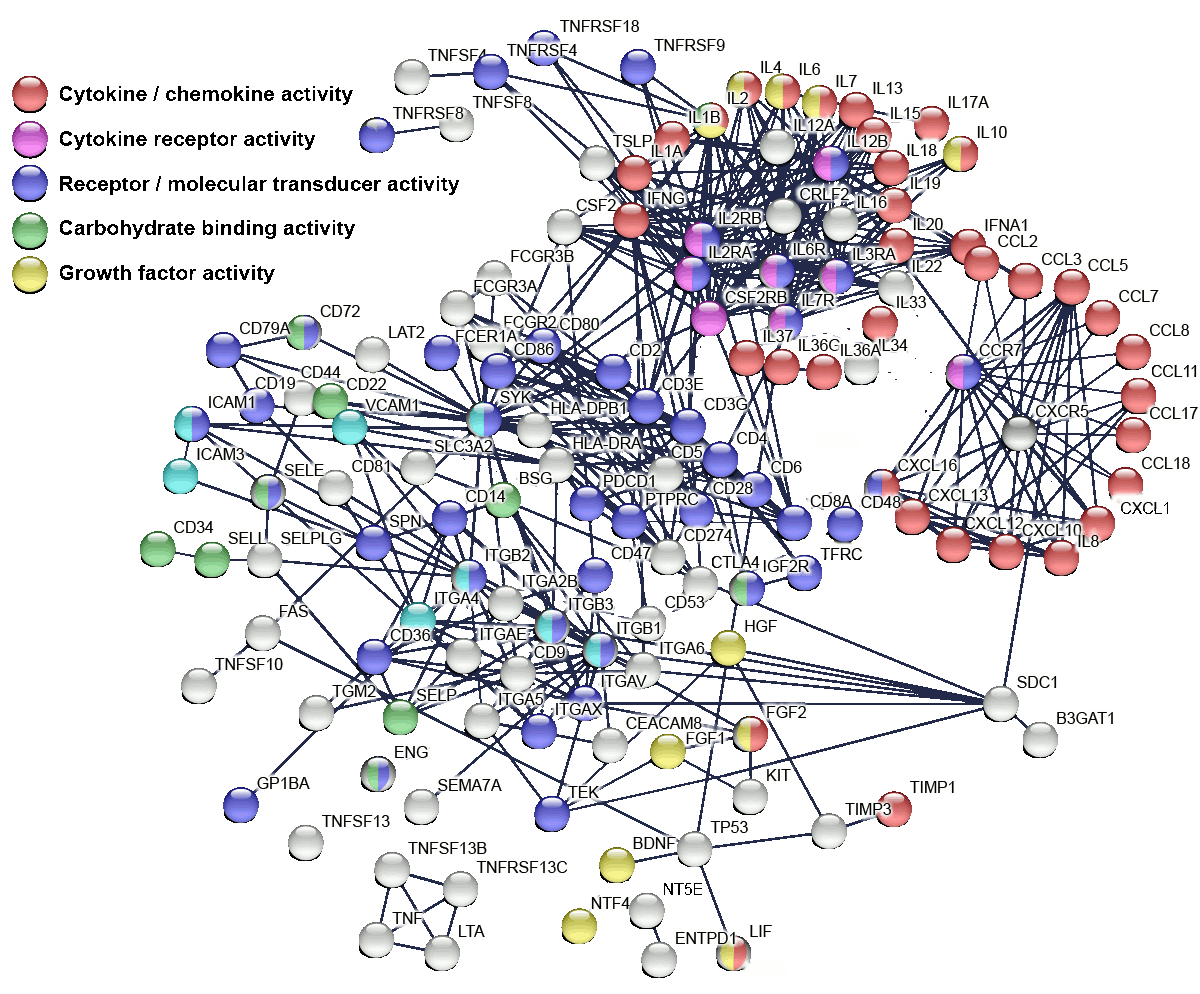 scioCD is a complete sample-to-result service for a variety of different sample types. The respective protocols were developed over a period of 15 years and are optimised towards highest possible sensitivity combined with high reproducibility (coefficients of variation below 10%).
Target
proteins       Analysis
Service       Sample
Types       Product
brochure       Contact
us
Applications

profiling of cell differentiation status
stem cell differentiation 
investigate soluble CD-molecules for e.g. allograft rejection
inflammatory response profiling
immuno-oncology profiling of check-point inhibitor targets
characterisation of tissue-isolated primary cells
immune-cell surface marker profiling on

various B-cells 
stimulated T-cells
patient derived T-cells
patient derived dendritic cells

oncology profiling for new biomarkers e.g. Leukemia
tumor micro-environment profiling
profile response to stimuli of cell lines
evaluate protein expression changes in silencing/overexpression  experiments

 

Advantages

high content - 206 proteins are analysed with monoclonal antibodies
broad coverage and parallel analysis of


129 CD molecules 
54 cytokines and chemokines
23 other relevant molecules (HLAs, p53)

minimal sample requirements
native matrixes ( non-fractionated / non-depleted )
sensitivity as ELISA or better
fully immuno-based assay
reliable dual-colour study design
high reproducibility, CV < 10%
most proteins are covered redundantly by two or more antibodies
each antibody is presented in four replicates
antibodies are available for follow-up studies
Which sample types can be analysed ?
Within our scioCD analysis service the following samples can be analysed:
plasma / serum
fresh frozen tissue samples
cellular content
cell culture supernatant
cerebrospinal fluid
additional sample types on request
Sample-to-result service
Within the analysis service, we will not only carry out the microarray experiments but also support you with a suggestion for an appropriate microarray study design as well as with the sample selection process in order to address your scientific question in the optimal way. Within 3-4 weeks after receipt of your samples you will receive a customised study report including a statistical analysis.
Our analysis service includes:
definition of an appropriate study design

sample preparation

protein extraction

protein concentration measurements

protein quality control

sample labelling

sample purification

incubation of the samples on antibody microarrays

microarray scanning

raw data acquisition

data normalisation

data analysis including cluster analysis

statistical testing for differentially abundant proteins

comprehensive study report